Cloud Cost Optimization (FinOps)
With the support of GDECA consultants, customers can achieve substantial cost savings, often ranging from 15% to 30% on their AWS Cloud expenses while maintaining or improving performance, reliability and efficiency.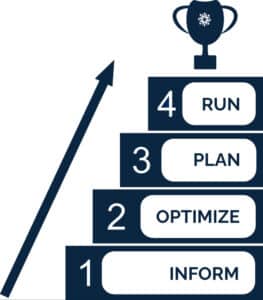 Collect all relevant data applicable to current cloud usage and spending.
Analyze current usage and spend information highlighting areas to optimize spend through right-sizing, cost-optimal resources, pricing models, automation and decommissioning.
Setup cost governance, monitoring, forecasts and alerts to maintain visibility and sustain in a cost optimized environment.
Maintain cloud cost optimization using data-driven decision making wrapped around a clear governance structure.
GDECA FinOps Capabilities
A recent Gartner survey found that "through 2024, 80% of companies that are unaware of the mistakes made in their cloud adoption will overspend by 20% to 50%."
After successfully implementing Cloud Cost Optimization, consider allocating resources to establish a Corporate Fin Ops practice. This entails adopting Functional Ownership and Cost Culture, setting up a Cloud Cost Center of Excellence, promoting collaboration between Business, IT, and Finance departments, and implementing additional FinOps policies and principles.
Request More Info About Cloud Cost Optimization
Submit your information to learn more about GDECA's approach to helping your business maximize its cloud spend.